The decision to engage the race as a fund raising opportunity was an easy one. Cumberland County suffers economically and knowing that it's kids are so at risk for abuse & neglect would inspire anyone to action.
The challenge is the implementation. So we divided to conquer.
The Cars
Precision Driving team owner Marko Radisic has the cars. He has turned himself inside out to get his two cars prepared. EVERYTHING has to be touched to ensure it will last the 12hrs+ of run time. Struts, brakes, coil packs, tires, backlit number boards and most importantly, brighter headlights for the night part of the race.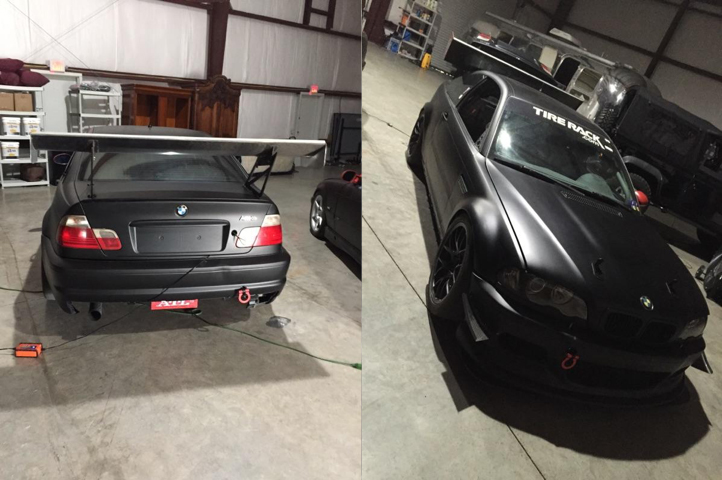 The Drivers
Nick Mercier & I hit the streets to find another driver, and not just any driver. We had to find a driver that would do the work of two as we're taking on a 4 driver race with just two. Each 100 min stint behind the wheel is the physical equivalent of a 10k running race. It's quite a challenge. The first part of this is the challenge it presents us as drivers, the second is the show of solidarity for the struggle these kids & families face. It takes a narrow pool of potential teammates and makes it a hunt for a unicorn.
We were 10 days into our hunt and had a few false starts. It was getting kind of scary as we'd built our charity business plan on a two car team; One car for South Jersey Bigs and a second for Robins Nest Inc. We were starting to wonder if we had to reconfigure as a single car, three driver team. That's when Eric surfaced.
Eric Zimmerman is an accomplished wheelman with many seasons of experience racing BMWs. He and Marko have driven together before making the union even more familiar. Just like that, the roster was full and the preparations in full swing and there are still 10 days until race day! I for one am hitting the cardiovascular workouts and trying to get 20 laps of iRacing simulation on the track each day. We're coming in loaded for bear in this race against child abuse.
The Preparation
We have the track to thank for our connection to both South Jersey Bigs & Robins Nest. Area businesses have already stepped forward to put on a lunch for mentors & their 'littles'. The NJ region of the Sports Car Club of America is planning to roll out the red carpet and host the kids, their mentors & families as guests of honor for the fan walk in the hours preceding the 11:55am race start.
How You Can Help A Child
Just $60 will help one family get the social services it needs to significantly reduce it's children risk of neglect or abuse. At $50 of pledged support per lap, every hour we race as a team will give three 'littles' a 'big'. Here's a quick example of how much you could impact our fight:
$10 given by 6 people gets one family access to the critical health care services they need to dramatically minimize the child's risk of abuse or neglect.
$100 will take a full $.25/lap off our $50/lap goal. If 12 people do this, we'll fund a 'big' for a 'little' for an entire year.
$.50/lap over the estimated 430 lap race will put FOUR new families into Robins Nest, Inc healthy families program.
Please consider making a tax deductible pledge now, help us take some ground in the war on child abuse.