Today begins trip 3 of 4 to compete in the 24 hours at The Nurburgring.
The journey to The 24 Nurburgring race has been nothing short of unbelievable thus far, but it is getting overwhelming. Every 3 weeks, we fly back across the Atlantic to Germany.
2015 brings about a new set of rules designed to ensure the contestants are appropriately experienced before taking to the race. In previous years, anyone with a FIA $150 International Class C license could arrive & drive in any car they felt they could afford. This literally meant that a first timer that was well funded could land themselves in a GT3 class rocket ship and have at it.
This is what that feels like (start around 3:30):

The new rule set says that you must begin the process with a FIA International Class B. To get a Class B license you need to have competed in 7 national championship eligible races OR complete 5 'time trial' type races at The Ring.
The next step (which is where we jumped in) is to then compete in two VLN series races and finish in the top half of the class. We were able to begin the process with an international Class B license due to the previous Rolex 24hr participation. The final step is to complete a mandatory safety course by the ADAC sanctioning body and you emerge with your "Class A Nordeschleife Permit".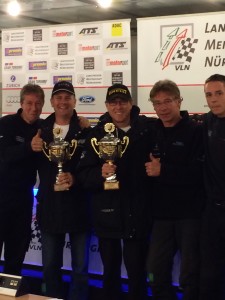 This weekend is the 2nd race where we will have to finish in the top 50% of the class to qualify for the 24hr Race in May. We got lucky in race #1 with a class win. It will also be the first time I drive the 122 turn, 15+ mile circuit in the dark. Although I have dozens of night races and some of my personal best lap times under my belt, the size of this prospect leaves me excited & anxious all at once.
Candidly – the timing couldn't be worse to go.
Work is having a breakout year leaving us fighting to keep up, the kids schedules are phenomenally busy with sports & parent teacher conferences – life is just so….well….full that a 2nd trip in 3 weeks hurts. This morning my 9 year old said to me, 'Oh, you're going AGAIN?' It felt like my cell phone rang the entire way into the airport, the ticket counter, in security and down the jetway. It was a relief to switch to 'airplane mode'.
Thank goodness my wife is the saint that she is. Her parting words as I walked out the door for the airport were, "Go, have fun and relax." She is the real trophy.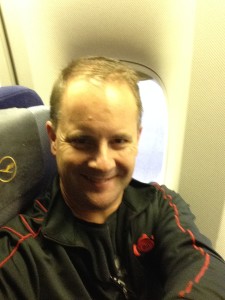 So off I fly. To Germany. Despite the long flights and the busyness I feel myself under the past 3 weeks, I remind myself that we have an amazing opportunity to raise funds through this venture. We're lucky to be able to participate, and the hard work is well worth it when we accomplish our goals.
Help join our RALLY in 2015 and help us help some really special children's charities by clicking here.
---
UPDATES: